"We have water for all our needs": Clean water and sanitation changes lives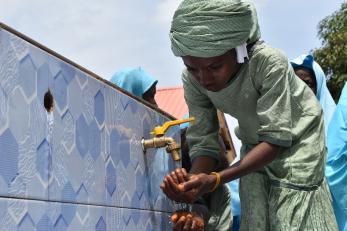 March 21, 2023
In the small town of Gangarasso-Sangassumi, Zaina (whose name has been changed to protect her privacy) doesn't have to think twice about whether she should attend school. Not long ago, twelve-year-old Zaina and her classmates had often missed school due to the lack of proper toilet facilities and access to clean water. UNICEF reported that 86% of schools in Nigeria lack access to clean water and sanitation and hygiene services. Now, Zaina's school is no longer a part of that statistic.
"Initially, we encountered a lot of difficulty obtaining water and the toilets are dilapidated, and this makes students leave the school premises during teaching hours or even miss school entirely," said Jibrin Waziri, head teacher of Ganye IV Primary School. "But since these facilities were constructed, attendance has increased, and we are very glad that students don't have to miss classes because of the unavailability of toilets."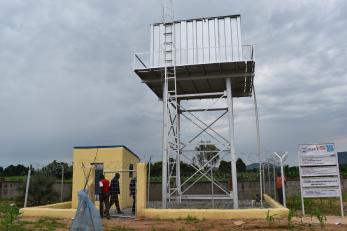 Schools in Gangarasso-Sangassumi, Ganye Local Government Area (LGA), Adamawa state have seen an increase in attendance. For students who spend most of their day at school, it is vital for them to have adequate access to water and sanitation. Mercy Corps Nigeria teams helped to rehabilitate a water facility and build toilet stalls at Zaina's school, and other schools in Gangarasso-Sangassumi, as part of a program that aims to provide and sustain access to water and sanitation services for communities in small towns across Northeast Nigeria.
The program supports economic recovery in communities affected by crises and strengthens the capacity of local governments to provide and sustain essential services commonly known as WASH (clean water, sanitation, and hygiene). In addition to schools, our teams have provided WASH support to health centers, markets, motor parks, homes, and small businesses.
At a local Gangarasso-Sangassumi bakery, manager Mukhtar Mohammed said the lack of access to clean water was a challenge to the business. "This slowed down the business and really affected us," said Mukhtar, who begins his day at 6 a.m. by fetching water for the bakery.
During the rainy season, bakery workers fetched water from an unprotected well, leaving it exposed to waterborne pathogens. In the dry season, the bakery bought water from vendors, which was unreliable. On days when the vendors showed up late, the bakery was delayed and they would be late to deliver to clients.
Now that Mukhtar and his team have connected the bakery to the water facility through an underground pipe, they have water flowing daily. "The delay in production has been resolved," said Mukhtar. "We now distribute on time and close on time. The tap also serves other residents in the community who fetch water free of charge."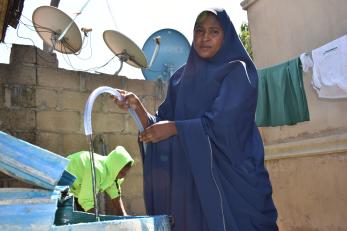 Our teams worked with local leaders in Ganye Local Government Area (LGA) to select community members to form the Water Consumers' Association, who organized the construction of water facilities in Gangarasso-Sangassumi. They were trained on how to manage and operate the new water facilities. Through this collaboration, residents in Gangarasso-Sangassumi were able to connect their homes to clean, safe water.
"We have water for all our needs," said Na'ima Mohammed, who lives in town with her husband and children and has recently connected her home to a nearby 50,000-liter water facility. Before the water facility had been built, Na'ima's family was unable to afford water from vendors and relied on hand-dug wells, which were unsafe and could have potentially spread diseases like diarrhea, cholera, and typhoid. Vendors were unable to meet every family's needs during the dry season, so some families had to go days without bathing and performing household chores that require water.
Na'ima and her family now have affordable access to the nearby water tank, which has also improved her family's hygiene since they now have enough water to bathe, cook, and clean. "This support has reduced a lot of stress for me," said Na'ima. "I no longer have to exercise energy drawing water from the well and I can even store water in drums."
Na'ima, Mukhtar, and Zaina are part of more than 83,200 people who have received increased access to clean, safe water as part of the Mercy Corps Nigeria WASH program, which is reaching communities across Borno, Yobe, and Adamawa states. Reliable access to clean water changes lives and communities for the better. Residents in Gangarasso-Sangassumi remain optimistic for their community and hope to see more water access in the rest of Ganye. "I want the water to keep flowing and flowing, and never stop," said Na'ima.
Join us in building a more equitable world.