A new dawn in Karamoja: How the milk trade is lifting women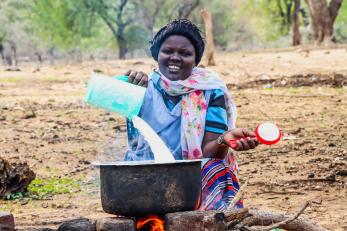 August 04, 2023
Dairy is one of the prioritized sectors in Uganda as the government seeks to foster agro-industrialization and increase household income. Small-scale dairy producers have helped enhance nutrition at the community level through the daily supply and sale of milk in affordable quantities.
In the Northeastern Karamoja Sub-region, spiraling insecurity and prolonged droughts have affected the ability of households to fully harness the potential of milk to improve food and nutrition security.
According to the Dairy Development Authority, Uganda's statutory body with the mandate to develop and regulate the dairy industry, Karamoja is a milk deficit area, with an all-year lack of marketable milk.
This means that milk entrepreneurs must adapt in order to sustain daily operations and realize growth.
Scola Chemakwany, a budding entrepreneur from the rock rugged Morunyang village, in Lokales Sub-County Amudat district, is defying the odds to make ends meet through the milk trade.
She is among the participants who benefited from the USAID - Bureau of Humanitarian Assistance-funded Apolou Activity that enabled a host of women to receive financial literacy training and business mentorship in June 2022.
"I did not know how to start a business; I thought I needed to have big capital. They told us that the little you have can start and one saves to expand. We were also taught about loaning," she says.
Scola attended a three-day business enterprise training in Amudat. "That is why I came and said instead of depending on someone or going for mining where gains are not easily attained, let me start my own business. I saw no one selling milk, no one was boiling. I was taught ways of attracting customers," she says.
Scola's typical day begins at 5 AM with buying and collecting milk from different homes, she then boils and skims the milk before packing it in jerrycans. She also feeds her chickens, before embarking on a journey to the trading center. Sometimes she walks or her husband transports her using a hired motorcycle. At the trading center, Scola moves door to door, vending the milk to hotels and homes.
On March 22, 2023, the program team accompanied Scola to witness how she goes about her business. After deducting expenses such as motorcycle hire, Scola remains with a reasonable income to save, an indication of business viability. A ten-liter jerrycan of milk that cost her about UGX. 10,000 ($2) was sold at UGX. 28,000 ($5), generating a profit of UGX. 13,000 ($3). Another batch that she bought at UGX. 35,000 ($9) earned her UGX. 70,000 ($19) implying she made a profit of UGX. 35,000 ($9).
On the same morning, she collected three 20-liter jerrycans at a cost of 60,000 UGX. (about $16). This was sold at 168,000 UGX. (about $45) attracting a profit of 108,000 UGX. (about $29). "I supply the hotels in the morning, the demand is overwhelming," she said. "In a week I save 150,000 UGX. (about $40) when the milk supply is steady," she adds.
This enables her to afford school fees for children and buy food for home consumption.
In a week I save 150,000 UGX. (about $40) when the milk supply is steady.

Scola Chemakwany,

Milk Trader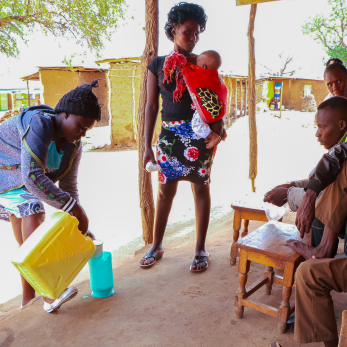 Coat of Many Colors
Married with four children, 2 girls, and 2 boys, Scola also rears 75 birds and 35 goats. She is also into the goat trade.
"I buy 2 goats in the village, and I go and sell them during Karita market days. I keep the money through savings, and some is spent meeting family needs," she opines. A supportive spouse backs her progressive business journey. "When I realize, I will not manage to go very far to deliver goats to customers who come from far, I rely on my husband who rushes to meet the customers," she says.
She is a member of Namoru Dairy Farmers Group, Apeta Farmers Savings, and Internal Lending Community (SILC) Group, and Morunyang Community Parliament. In the latter, she is a secretary. In November 2022, her SILC group saved 5.8 million UGX. (about $1,500) which was distributed among the members. She received 800,000 UGX. (about $215). This saving and interest enabled her to buy 7 goats, and saucepans for the milk business.
Scola is also a nutrition promoter and a SILC field agent. She trains people who are willing as well as those in Savings and Credit Cooperative Societies (SACCOs) and SILCs, earning herself disposable income. "I have trained 100 women who have helped spread the Apolou messages to their neighborhoods," she says.
She notes that many members of the community now have knowledge of business and they are yearning for startup money to kickstart businesses. She calls for scaling of the training on business enterprise to other communities to attain much-needed income, food, and nutrition security.
Challenges
Forced migration of pastoralists due to incessant cattle raids and prolonged drought greatly impede her milk business.
"We are facing insecurity in the grazing areas and cows have migrated, the milk I am selling has reduced because cows are suffering because of the ongoing drought," Scola notes, decrying the low milk volumes in her community.
As a growing business lady, she is also faced with the challenge of inadequate capital, which she says has not enabled her to purchase all the needed requirements. "Sometimes motorcycle owners disappoint us, you hire a motorcycle, and, in the morning, someone comes that they want their bike," she says.
Future Aspirations
Optimism overrides Scola's current business challenges. "I am happy about the business skills; my dream is to have a milk vending house in Chepkararat trading center to be able to supply milk across neighboring communities of Kenya," she says.
With a well-equipped stall at the trading center, Scola will be able to skim and pasteurize milk before selling it to walk-in clients instead of moving from house to house. "I think that all people will know where I am selling from, I need a house, a motorbike, milk cans, and more saucepans," she says.
Join us in building a more equitable world.