The People of Taiwan to Provide $5M in Funding to Support Mercy Corps' Syria Earthquake Response
The Taipei Economic and Cultural Office in Jordan, a longstanding partner of Mercy Corps in Jordan, has announced $5 million in new funding from the people of Taiwan for Mercy Corps' earthquake response in Northwest Syria. The funding will enable Mercy Corps to significantly scale its earthquake response as hundreds of thousands of Syrians remain in urgent need of assistance one month following the devastating 6.8 magnitude earthquake. 
"This new funding enables Mercy Corps to significantly increase our impact for vulnerable families impacted by the recent earthquake with urgently needed supplies like hygiene kits, dignified shelter items, and basic food supplies," says Kieren Barnes, Mercy Corps Country Director for Syria. "We are incredibly grateful to Representative Yang, to the Taipei Economic and Cultural Office in Jordan, and to the people of Taiwan, who are stepping up in a significant way and setting a remarkable example of solidarity while other international funding for the earthquake response in Northwest Syria lags."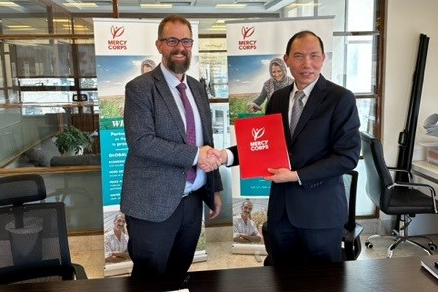 In Syria, nearly 11 million people have been affected by the earthquake at a time when 4 million in Northwest Syria were already reliant on aid agencies for basic humanitarian needs like clean water and food. In Northwest Syria, at least 11,000 families are now homeless and 280,000 are in need of immediate assistance. Mercy Corps was already providing assistance to 300,000 people in Northwest Syria prior to the earthquake and immediately began responding through the provision of pre-positioned kits with essentials like shelter supplies, blankets and solar lanterns.
Following the earthquake, Mercy Corps has determined significant impacts and needs persist in Harim sub-district of Idlib governorate. Many people do not have access to food given limited cash and increasing food prices. Major damage to the water network, water storage tanks, and latrines has been reported, which impacts the quality and availability of water and increases the likelihood of disease outbreak, including cholera, already present in Northwest Syria. Already more than 50,000 cholera cases have been reported in Northwest Syria as of March 1. Mercy Corps is providing clean water trucking to displacement camps, desludging contaminated water sources and also actively assessing damage to the boreholes that supply clean water in preparation for repairs. 
Mercy Corps has been working in Syria since 2008, delivering emergency assistance and addressing longer-term needs. In the Northwest, we have provided essential support including water, food, shelter, sanitation services, and livelihoods assistance to Syrians displaced multiple times throughout the course of the conflict.