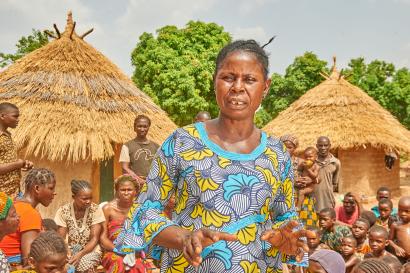 Violent conflict is on the rise, reversing a decades-long global decline. Today, it is estimated that over 80 million people have been forced to flee their homes due to persecution, conflict, and human rights violations — the highest level on record.
Conflict and instability cause significant setbacks or even reverse decades of progress in areas that are key to a community's future, like economic development, public health, and access to nutritious food. Communities experiencing conflict have higher rates of poverty in comparison to more stable communities. By 2030, it is estimated that two thirds of the world's poorest people will live in conflict-affected areas.
Sharp economic downtowns, increasing inequality, and rising authoritarianism — to name a few — are not only contributing to the uptick in violence but are also eroding the very foundations that make communities strong and resilient. The effects of climate change and the COVID‑19 pandemic are only compounding these challenges.
We know that achieving and sustaining progress requires reducing conflict and violence. That's why our work to promote peace and defuse conflict, which reached nearly 5 million people last year, is so critical.
On an individual level, we focus on youth, helping them access the knowledge and resources they need to thrive psychologically, socially, economically, and politically so they are able to find peaceful solutions to their challenges. In Somalia, for example, our education and civic engagement program reduced support for violence by nearly 65% among participants compared to non-participants.
We also work with communities — whether defined by geography or other characteristics — to manage conflicts before they escalate. A cornerstone of our peacebuilding work is strengthening relationships and building trust within and across communities, identity groups, and authorities so that they are able to work together to achieve common goals. We also provide training in interest-based negotiation and mediation so conflicts can be resolved locally and peacefully.
Lastly, we work to transform the norms, attitudes, and institutions that enable conflict. This includes a sharp focus on strengthening good governance practices. We do this by helping local governments and communities work together to tackle some of the biggest drivers of conflict, like shrinking resources from climate change and economic inequality, and develop long-term solutions.
The drivers of conflict are complex and interconnected, and so are the solutions. Our approaches span sectors and populations, building foundations for lasting peace.
For more technical details on our peace and conflict work, please download our approach document.