Planting the seed for climate action
Youth climate ambassadors in rural Nigeria build awareness and share knowledge
April 14, 2022
Last fall, thousands of young people celebrated International Youth Day by planting more than 7,000 trees across four states in northeastern Nigeria. In Adamawa, Borno, Gombe, and Yobe states, Mercy Corps partnered with the Ministries of Youth and Environment to put on events highlighting the power of young people in promoting climate change action. As the youth engagement advisor for Mercy Corps Nigeria, I was thrilled to see so many people from our communities come out to join the celebration. There were countless pictures of young people gently handling their seedlings before planting them into the earth—many of them also held up handwritten signs to show that the tree belonged to them, that they themselves were now a part of the landscape.
In northeastern Nigeria, where more than a decade of ongoing conflict has severely stifled the economy, land degradation and climate change exacerbate ongoing challenges that communities face. From deforestation and unsustainable agricultural practices, youth and women are disproportionately affected because they depend on natural resources for subsistence farming, food security, and livelihoods. It's imperative for young people to understand how they can take part in creating a sustainable future for themselves and their communities.
As part of our program to build climate resilience in rural communities, we trained young people to be climate ambassadors. From learning how to use the national weather services to help predict seasonal climate forecasts to digging trenches to prevent farm floodings, the climate ambassadors returned to their communities ready to take action. Climate ambassadors like Abubakar, Peterson, and Eric in Adamawa State, who are also secondary school teachers, created climate change awareness clubs for their students. They supported their students to plant trees as windbreaks around their schools, including on pathways that have been affected by erosion. With support from their state, they also launched a wider climate action campaign with more than 300 people planting trees in their communities.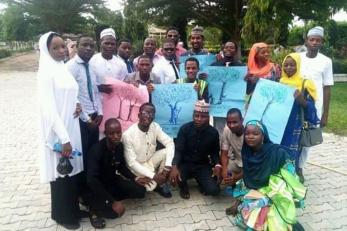 Mercy Corps is also supporting young people's participation in the business side of agriculture. We teach financial literacy through youth savings groups, and offer vocational training that can lead to stable livelihoods. Opportunities like these help to increase economic development during challenging times. Our "waste to wealth" workshops offer training on how to convert plastic waste to interlocking bricks used in homebuilding, as well as how to convert sawdust to cooking coal and source of manure for crops. Yauto, a young woman who participated in the workshop and learned how to create charcoal briquettes from corn cobs, shared her skills with women and girls in her community. She has gone on to start a business, employing other young people to sell charcoal briquettes. Not only has the workshop helped Yauto create a small business, it has also contributed to sustainable waste management and saved many trees from being cut and burned to produce charcoal.
When I was a young woman growing up, I remember how difficult it felt to make our own way because we did not feel confident to help lead our communities. It wasn't until I was a little older, working with adolescents, that I understood how important it was to give young people the tools and information to create their own paths. With their enthusiasm and commitment, young people are leading the way as ambassadors of climate action for their communities and beyond.
Join us in building a more equitable world.