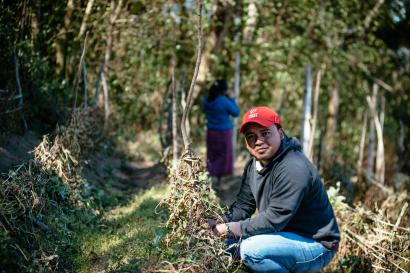 In the countries where Mercy Corps works, agriculture is the primary means of food security for 57 percent of the population. 
People in these areas face incredible obstacles: soaring prices for food, seeds and other supplies, outdated technology, unfavorable or limited access to markets and financial services, and poor soil and water management. 
But with targeted investments and technical support, smallholder farmers hold the potential not only to improve their lives but also to contribute to a more productive, resilient and inclusive food and agriculture system.
That's why we help them increase productivity, secure access to land and weather environmental shocks and stresses. We also focus on improving agriculture-related products and services by working with traders, input suppliers, processors and government bodies. And our holistic approach extends further — to motivate and empower youth to transform tomorrow's agriculture.
Every year, we connect nearly 1 million farmers to the resources they need to increase production, feed families and boost incomes.
For more technical details on our agriculture programs, please download the documents below:
---